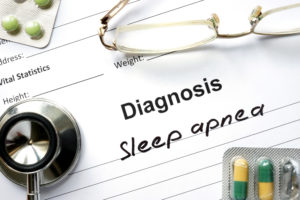 We've talked a lot about how the health of your mouth affects the rest of your body. It's our goal, after all, to connect those dots! There are a lot of surprising health problems that can come from your mouth, such as heart attacks, but this time we've got a different one: sleep apnea.
We've all got to breathe. It sounds simple, but so many people aren't breathing right, especially when they're sleeping. The good news is that they changed the rules: it used to be that if you had sleep apnea, you had to go to a sleep lab, but now you can actually do a sleep study at home.
The first thing to figure out would be if someone possibly has sleep disordered breathing. Snoring, for instance, is something that nearly everybody with sleep apnea does, but not everybody who snores has sleep apnea. If you have high blood pressure, if you're dozing off during the day, if you feel sleepy while you're watching TV –  these are more signs that point to sleep apnea. If somebody has all these symptoms, it's time for the sleep study.
There are two ways you can do a study. One is where you go to a sleep lab and get hooked up all the bells and whistles and, hopefully, have a good night's sleep! They try to determine if you have sleep apnea by looking for a few different things: how many times an hour did you stop breathing for 10 seconds? How often was your airflow restricted to where your oxygen level dropped at least 4 percent? After those questions are answered comes the diagnosis.
But now you can do a home sleep study. We talk more about that and what it takes to treat sleep apnea in this week's episode of the "Your Filthy Mouth" podcast, and we also answer a listener's question about flossing. Listen here.
Until next week …
Charles "Dr. Chuck" Reinertsen, DMD, has been practicing dentistry in Central Florida since 1979 and is author of the book, "The Power of a Really Great Smile." His passion is spreading the word about how the health of your mouth is intrinsically linked to the rest of your body. Learn more at www.yourfilthymouth.com.